Casey Kesselring, Director of Hockey Operations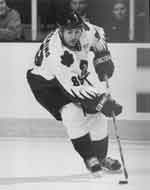 Casey Kesselring is Director of Hockey Operations for Total Sports Management, LLC. Casey scouts, Casey Kesselring recruits and maintains contact with hockey coaches and hockey general managers. Casey has contacts in professional hockey both within the USA and in European professional hockey. Casey's most important role is to advise hockey players. Casey provides hockey players with experienced and expert advice and guidance gained from his own college and professional hockey career.
Casey is a graduate of Merrimack College (HE) where he excelled over his four year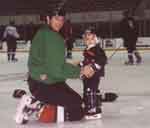 career. He currently ranks 4th on Merrimack's Division 1 all-time scoring list. After graduating, Casey signed with the Calgary Flames organization, and went on to play five years of pro hockey in the ECHL, East Coast Hockey League, and AHL, American Hockey League. Originally from Kitchener, Ontario, Canada, Casey now resides in New Hampton, NH with his wife, Shawndra, and children, Michael, Lexi and Mason.
"I am really looking forward to helping young hockey players get into a situation that will allow them to progress to the highest level possible in pro hockey, as well as educating them on what they can expect as a professional hockey player."