Knowing When to Say "When" to the NHL: Looking Seriously At the European Hockey League Option
Trevor Demmans, EC Bad Tolz, Bundesliga (Germany) A youngster playing minor hockey and skating on the backyard rink with friends dreams of playing in the National Hockey League. As he gets older and progresses to junior or college hockey, his dream is still alive. It's seemingly within his grasp. Then he turns pro. He can almost smell his childhood dream but something happens. He ends up in the minors. The player is discouraged. But this isn't the end of the world -- or his career -- for that matter. The player just needs to know his options and pursue the right one.
He thinks that if he works hard he can move from the East Coast Hockey League up to the American Hockey League. Then, he's only one step away from his dream of playing in the NHL. Or, if the player was lucky, he's already signed an NHL contract. He's in the AHL already, and now he's only one step from the glory of playing in the NHL.
This article is for players who find themselves in either of these two separate scenarios: the AHL/NHL scenario or the ECHL scenario. Either may apply to you.
The AHL / NHL Scenario
If you're on an NHL or an AHL contract, then you probably already know you're close to fulfilling your dream. In fact, you'll probably get at least 1 or 2 games in the NHL! Why? Because the organization that signed you has made an investment in you and will want to test you. From this point onwards, here are a few different things that can happen.
First, you may progress, get called up and become a regular in the NHL. This is the best-case scenario.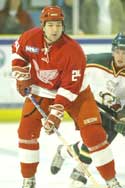 The second scenario is more common: you play out your contract. Perhaps you didn't progress like the organization predicted that you would. The result? Your NHL deal's run out. There are no offers on the table. This crossroad in your career can be challenging. You now have to be honest with yourself and decide which career path to pursue.
Most players allow their pride to cloud their decision-making. Many players will blame the organization. They'll believe that if they could just get another shot, somewhere else, they would prove they are still an NHL prospect. This may be the point where you need to decide if you're playing hockey to chase that boyhood dream -- to hopefully play in the NHL -- or if you want to make the best career of hockey that you can.
Jason Robinson, London Racers, British Elite League - - Photo copyright Tony Boot)
The NHL may not be out of reach. Some players do make it to the NHL later in their career. However, if you haven't been re-signed, at this point you need to weigh all options available to you. Don't be dismissive of other leagues and choices.
A good career choice may mean that you should position yourself to make the most money possible over the length of your remaining playing days. If you take care of yourself and stay healthy, you should be able to play at least until you are 35.
A good hockey agency can help you maximize your remaining career. They can provide you with a chance to participate in once-in-a-lifetime experiences and the opportunity to live and travel in interesting countries, particularly in Europe.
The European Hockey League Option
Europe can be a very good option for players in today's market. The salaries are tax free and, with the Euro being so strong for the foreseeable future due to American international trade and fiscal policies, the buying power of a European salary continues to be better. In addition, the season is typically 20 to 30 games less than North American seasons, so there is less wear and tear on your body. European clubs typically also pay for your housing, automobile, equipment, airline tickets, and even your utilities in some cases.
However, before actually playing in Europe, you need to know that you are a name on a piece of paper to European clubs. Therefore, your resume becomes very important. Here's some concerns:
Evan Lindsay, London Racers, British Elite League -- Photo copyright Tony Boot
If you come off your NHL or AHL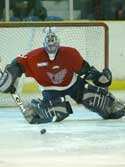 deal and decide to play one more year in North America trying to make it into "the Show," you may end up becoming a depth player, often being brought up and sent down with no real sense of your job security. Depending on your goals, family situation and salary, this may or may not be satisfactory. But if you end up in the ECHL, you'll decrease your stock for going to Europe. If, after thinking about the above possible outcomes of staying in North America, you feel that the NHL is out of reach, then why wait?!
By going to Europe after you've played in the AHL, you increase your chances of getting into the best elite leagues. This may very well allow you to make more money than you would have by staying in North America.
Total Sports Management specializes in facilitating European options for our clients, and can do so for you.
The ECHL Scenario
When you're in the East Coast Hockey League, you need to know a couple of things: first, if you don't move up to the AHL within the first two years, you probably won't. This doesn't mean that you're not a good player. The problem is that there are so many players out there that it's very difficult to make it to the NHL from the Coast. Second, you need to play well, be noticed, AND you need to get lucky. However, there are players every year who played in the ECHL and made it into the NHL, so this article is not designed to deflate players' NHL aspirations. Rather, the point of this article is to emphasize you need to have a game plan if you want to make significant money playing hockey. Total Sports Management (TSM) makes this clear to its player-clients. Casey Kesselring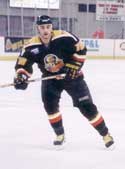 Before embarking on your chosen plan, you need to decide if you're just playing simply to avoid a "real job" for a few more years or if you wish to maximize your career. If your answer is the former, you're not going to need Total Sports Management to do that.
TSM looks not only for talented players but also for hard working players who wish to make the best career out of playing hockey possible. One of the advantages that TSM has available for our players is a network in Europe of players, coaches and general managers. TSM can help secure good contracts for our players-clients on European clubs, in various leagues and countries, including the lucrative elite leagues.
What To Expect In Europe
Once our players arrive in Europe and begin playing, most everything then becomes based upon performance, not the contract they have signed. Your initial European contract will also probably not be extremely lucrative. It will, most likely, be a single season contract during which you'll have the opportunity to demonstrate your skills to teams and leagues that will pay you more money during your second season in Europe. Our TSM contacts in these leagues will be available to assist in landing one of these contracts.
When deciding whether or not to pursue contracts in Europe, you also must compare what you actually make in North America to what you'll be receiving from a European contract. Many of our clients have been pleasantly surprised by how much more a European club can offer!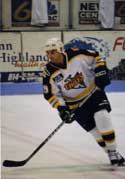 Casey Kesselring
I myself didn't realize these differences when I was playing. So now, part of what I try to do as a player liaison for TSM is to help other young players avoid the same problems that I encountered. I was -- and still am! -- a hockey die-hard. I had a number of good years in the ECHL. I was a rookie all-star. Then I went down South and put up 55 and 66-point seasons. However, even after those seasons, I had not been called up to the AHL. I knew that at that point my NHL dream was probably out of reach, but I still wanted to play. I had opportunities at that time to go overseas; however, my wife was hesitant with the idea. So I thought I could still remain playing in the Coast and my wife would still be happy, so that's what I did.
I was then making about $800 per week with my ECHL package, which seemed adequate to me. So, in actuality, I was making only $20,800 US, before taxes. I had offers to play in Europe for $25,000 US, all tax-free. However, at the time, I didn't take the time to find out how the systems worked nor did I compare those options or even take the time to crunch the numbers.
Europe vs. the US: Number Crunching
In the Coast, you multiply your weekly salary by 26 weeks. Remember: you have to pay taxes and union dues on that money as well. Plus, an ECHL team can void your contract at any point and only owe you one-week of severance pay. Compare that to what you will make overseas. European clubs pay for your automobile, your housing, your taxes, your insurance, AND your airline tickets. Thus you should only spend about 10 to 15% of what you earn, allowing you to bank the rest!
For example, I made $20,800. After taxes I netted about $17,000. If I had gone overseas for the $25,000 offer, I would have netted the full $25,000 since the European clubs pay the taxes. Then, if I only spent 15% of that $25,000 (because the European contracts provide such great benefits), then I would have brought home $21,250! So, it's pretty clear, when you seriously compare and crunch the numbers, what my decision should have been. And what yours, perhaps, should be. You as a player have to look at room for growth in any career. Europe can be a very good option.
Moreover, as mentioned above, at the AA minor hockey league level which I was at, your salary is going to be capped at perhaps $1,000 per week. By the way, you'll have to be one of the best players in the league to make that much! For arguments sake, let's say that I had had an unbelievable season in the Coast and got that $1,000 per week. Even with that $200 per week increase, it would have still only been a $5,200 raise over the course of that second year, before taxes!
If you are currently in a situation similar to what I faced and you decide to go overseas, you could conservatively go from $25,000 to $35,000, in the right situation, just by having one good year! If you have a great year, you might be able to get picked up by a higher league team and earn perhaps $60,000 or more, after taxes. We personally know of such players, including one who played in the ECHL and briefly in the AHL, who decided to play in Germany on a $25,000 tryout contract. During his initial season he played in Germany. He played well and, by November of that year, had signed a two-year deal with another team in the league for approximately $75,000 after taxes!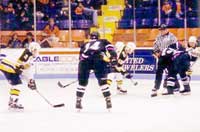 The Game I Love So, if you want to make hockey a career and wish to consider European options, then TSM can help. Just think of the possibilities and give us a call at 603-706-5678.
By: Casey Kesselring
Director of Hockey Operations/Player Liaison
Total Sports Management
Phone: 603 785-9180
ckesselring@TotalSportsMgmt.com