Information - Summer 2018
Updated 21 March 2018
Online Registration will OPEN AT 18:00, APRIL 5th, 2018, and close on April 20th. First Come, First served. Guaranteed places usually fill up within 24 to 36 hours and a waiting list is used to complete the groups that are missing players.
All games are held at:
Excellence Sur Glace (Excellent Ice), 2950 rue Edmond, Kirkland, H9H 5J5
More 2018 info coming soon...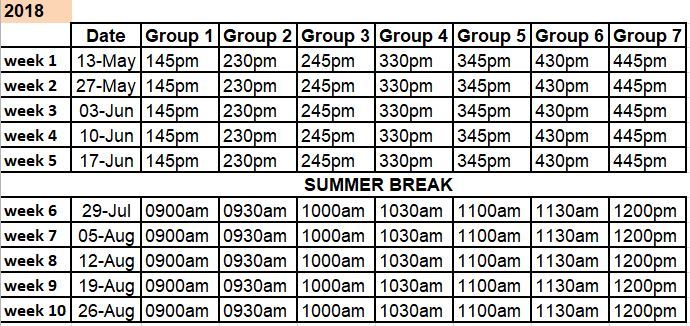 3on3 League Schedule - Summer 201
Posted 28 Feb 2017
Contact Heather Jardine if you will be absent from a game.
Information - Summer 2017
Updated 17 March 2017
The concept of 3on3 ringuette is as folllows:
To enable our girls to continue skating in the off-season, while still enjoying a break over the month of July

To enhance the skills and creativity of our players on a smaller ice surface

To allow for a greating time of ring possession by each player, due to the lower number of players on the ice at any one time

To enable the girls to play without any coaching whatsoever, and to allow them to scrimmage in a fun environment
The 3 on 3 Superleague is run in cooperation with BKRA, PCRA, 4 Cités, Pierrefonds/DDO and St-Laurent, and managed by Excellence Ringuette.
- Format is 1 hour of game time with referees including a shootout, teams are mixed every week in the GROUP, full ringette equipment is mandatory.
- Starting age is PreNovice up to Cadette AA.
- 7 GROUPS, split up by level.
- Max 16 skaters and 2 goalies per GROUP, therefore limited registration by level.
- Parents must indicate on the registration form the level their daughter played this past ringette season, with the name of the head coach.
- Players must play in the same level they have played this past season unless they are moved by the organizers.
- REGISTRATION IS NON REFUNDABLE AFTER THE GROUPS HAVE BEEN FORMED. Exceptions may apply to long term injuries.
- GROUP times will only be assigned after closing of registration, the v1 of the schedule is only to give parents an approximation of the schedule.
- Skaters price is $195, full time goalies pay $95. Pay online. Third child is free
Below you will find the FAQs, which should answer all of your questions. Should you still have questions, please email Rob Krauss.
FAQs
Posted 19th March 2012
FREQUENTLY ASKED QUESTIONS
Q: How are groups decided?
This depends on the registration numbers and level of players who register. We cluster groups of 16 players per group.
It is important for you to include the level and category where your daughter played LAST YEAR (i.e: Novice B).
Q: My daughter is amazing and I don't want her to play with weaker girls
Many parents want their daughters to play up a level, but it is not always possible.
Girls may be asked to change groups and/or play an additional game if they are too strong/weak. To this end, if your daughter is, for example, a strong Atome C player, she may play with the Atome A/B group...etc.
Please note that we try our best but it is not always possible to accomodate every request/situation.
Q: What happens if there are too many skaters and goalies?
In the event there are too many goalies, we will move them up/down levels to try to fill the goalie spots.
If there are too many players in a certain category, then we may have to refuse registrations. We are capping registration of skaters to 16 per group, therefore it is critical to get your registration back as soon as possible.
Q: Why are goalies half price?
Goalies have a duty of care to be at every game and to provide notification at least 48 hours in advance if they can't attend. A game without a goalie ruins the experience, which is why we reiterate to goalie parents how important it is to be there or provide ample notice.
Q: Can I play half a season, alternate weeks, or split a season?
No, it is too complicated since this is run on a volunteer basis.
Q: What is the time and game format?
Girls are split into 2 balanced teams each week by the monitors and provided with pinneys. Each session has a 2 minute warm-up, two 20 minute periods, and a shootout.
Since there are only 3 girls on the ice, there is no such thing as defence/forward positions, it's a rotation of girls.
Girls are asked to change by themselves and to bring their own waterbottles.
Q: Do we need full equipment and are there referees?
Full equipment per Ringuette Quebec rules (are required, and referees will be at the game.
Any penalty awarded will be a penalty shot.
Q: Can I go behind the bench?
We do need some volunteer parents, who are asked to go behind the younger girls benches and are requested to only open doors and help with line shifts.
Any parents coaching or screaming will be asked to leave.
Q: What is the schedule and times?
The tentative schedule is on the registration form, but this is subject to change.
Q: What categories/levels can join?
Categories eligible include: