Version française à venir...
Un instant!
Avez-vous lu les nouvelles de BK aujourd'hui? Elles sont également présentées sur la page d'accueil.
BKRA Master Schedule
The BKRA Master schedule is periodically updated below, directly by the scheduler, with all planned association activities, including newly allocated team practices, regular season & playoff games, planned tournaments, and all player & coach training sessions or clinics.
Advise the scheduler immediately if any conflicts, omissions, or other issues arise.
Important Dates:
Jan 8-14th 2018 - BKRA TOURNAMENT
Feb 16th 2018 - Start of Playoffs
March 27th 2018 - Latest possible scheduled game
April 7th 2018 - Reserved for Bunnies Fest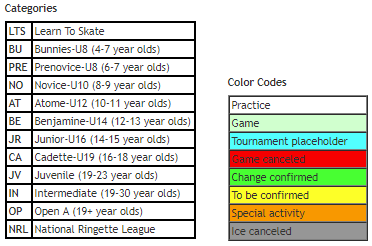 To save or print the schedule , open the googley viewer here and select File / Download As from the menu.
View most game scores on the LSL website.
Unfortunately, access to team schedules is no longer available on TeamSnap.